Cusk
Brosme brosme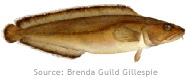 This relative of the cod family Gadidae is also known as brismak, brosmius, tusk, torsk and moonfish. With its elongated body, it most closely resembles the hake, but has a single dorsal fin as its significant mark of distinction. Colour is variable, from dark red through greed-brown to pale yellow, depending on its environment. Individual weights range from 1 to 7 kilograms. Cusk is essentially a northern, deep-water fish, harvested year round by the inshore, nearshore and offshore segments of the fishery by handlines, longlines and otter trawls.
Cusk is a lean white-fleshed fish that is prepared like cod. Most of Canada's cusk production is salted and dried.
List of Canadian suppliers of cusk
NOTE: These processors are volume wholesalers and are not usually set up to deal directly with consumers.
Source: Department of Fisheries and Oceans
Date Modified: